Upper Deck 25th Anniversary Previews!


Thursday October 16, 2014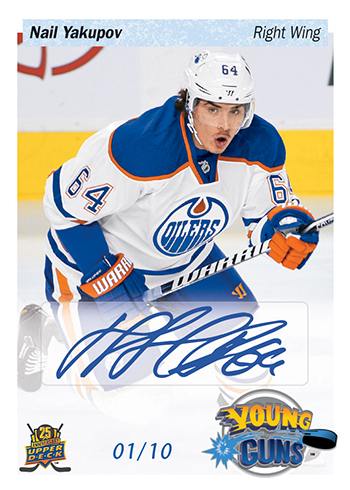 Upper Deck Previews 25th Anniversary Priority Signings Young Guns Cards for 2014 Fall Sportcard & Memorabilia Expo in Toronto, Ontario!

When 2014-15 NHL® Upper Deck Series One releases on November 5, 2014, it will mark the 25th consecutive season of Young Guns rookie cards appearing in products. At Upper Deck, we think that is something worth celebrating so there will be some special 25th Anniversary content in packs of the 2014-15 NHL® Upper Deck Series One release, but some of the coolest items will be found at the 2014 Fall Sportcard & Collectibles Expo.

Twice a year Upper Deck attends this fan friendly show to spend time with die-hard NHL® collectors, some of whom travel all the way from Europe to attend the show. It is important for us to say, "Thank you," to our collectors both personally and with great promotions and giveaways. And for our 25th Anniversary, you better believe we are going all out to provide some great programs for our fans!

There will be a variety of interactive elements and events that will make this show very special for attendees that we will be sharing soon. One component of the event that every collector gets excited about however is Upper Deck's Priority Signings wrapper redemption autograph cards. Fans can bring select new boxes to Upper Deck's booth that are purchased from authorized dealers at the show to get one random Priority Signings autograph card for FREE. This year the design is drastically different to years prior as we pay homage to the iconic 1990-91 NHL® Upper Deck Young Guns rookie design. What's more, we also sourced for imagery of all the players from their rookie seasons where available giving the cards a very unique Young Guns-like feel to them.

Take a look here!