POKEMON TCG SUN AND MOON EXPANSION ULTRA PRISM REVEALED


Tuesday January 23, 2018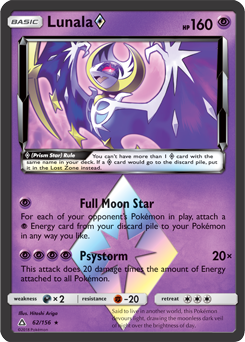 A new expansion for the Pokemon TCG, Sun & Moon—Ultra Prism, will be released on February 2, 2018.
The latest expansion introduces Prism Star cards, a powerful new type of Pokemon and Trainer card. To balance their power, only one of each Prism Star card is allowed in a player's deck, compared to the usual limit of four. These cards are also discarded into the Lost Zone, rather than the discard pile.
The new set, which features over 150 cards, includes six Prism Star cards in total, as well as five Ultra Beasts and 18 full-art cards. The expansion is "set in an alternate version of Sinnoh, one of the twisted parallel regions that players can reach by traveling through an Ultra Wormhole."
PREORDER POKEMON SM5 BOOSTER BX DISPLAY
PREORDER POKEMON SM5 3-PACK BLISTER
PREORDER POKEMON SM5 FRENCH BOOSTER BOX
PREORDER POKEMON SM5 ELITE TRAINER BX
PREORDER POKEMON SM5 MINI ALBUM
PREORDER POKEMON SM5 THEME DECKS BOX
PREORDER POKEMON SM5 FRENCH TD DISPLAY
PREORDER POKEMON SUN & MOON #5 4 POCKET PORTFOLIO