Jigsaw - Now Available on Blu-Ray and DVD


Friday January 26, 2018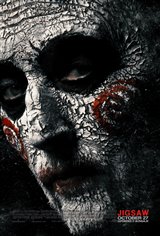 The bodies of people who have suffered gruesome deaths begin turning up around the city, each with a piece of flesh carved out. The evidence in the investigation points to the murders being the M.O. of John Kramer (Tobin Bell), who was also known as Jigsaw. The only problem? Jigsaw has been dead for over a decade.
The investigators ask themselves whether Jigsaw has a copycat, but after the bodies undergo a medical examination, they're shocked to find that the blood found under the fingernails of the victims belongs to Jigsaw. Could he really be back from the dead?
Jigsaw was released on Blu-Ray and DVD on January 23rd, 2018

CHECK OUT OUR IN STOCK HORROR RELATED PRODUCTS!
FU20115 POP HORROR CARRIE
FU20117 POP HORROR TIFFANY BRIDECHUCKY
FU21560 POP HORROR ASST (6)

---
YMZLDD95100 LIVING DEAD DOLLS RESURRECTION XI (4)
YMZLDD32 LIVING DEAD DOLLS 32 ASST (5)
YMZLDD33 LIVING DEAD DOLLS 33 ASST (5)
YMZLDD34 LIVING DEAD DOLLS 34 ASST (5)