Batman: Gotham by Gaslight Released on DVD/Blu-Ray


Tuesday February 06, 2018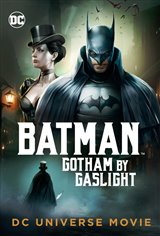 Batman: Gotham by Gaslight was released on DVD and Blu-Ray today, February 6, 2018.
A murderer known as "The Ripper" is butchering women as they walk the streets of a Victorian Age Gotham City at night. The murders have the town in an uproar, as the police do nothing to solve the crimes.
Batman (voice of Bruce Greenwood) decides he'll find "The Ripper" and put a stop to the murders. However, a wrench is thrown into his plans when the police arrest Bruce Wayne, believing him to be the murderer.
Check out our in stock "Batman Animated" items, below.
FU11571 POP DC BATMAN ANIMATED ROBIN
FU13643 POP DC BATMAN ANIMATED CLAYFACE
YDC0381 DC BATMAN ANIMATED BATWING
YDC170344 DC BATMAN ANIMATED GCPD ROGUES
YDSTDCGBMH DC GALLERY BATMAN TAS HARDAC
YDSTDGBG DC GALLERY NEW ADV BATGIRL
YDSTDGHQ25 DC GALLERY DELUXE HARLEY QUINN
FU11493 POP DC BATMAN SUPERFRIENDS
FU11494 POP DC BATMAN EARTH 1