'THE CASTER CHRONICLES' ADD NEW STUDENTS
In Third Booster Pack and Starter Deck


Monday March 05, 2018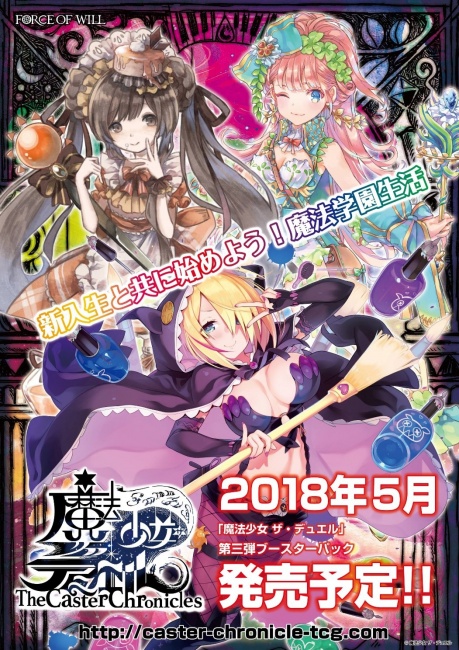 Force of Will Co., Ltd. will release the third installment of new titles for The Caster Chronicles on May 25: The New World Order Admissions booster pack set and the Magical Dream 7 starter deck. The expansion adds new students to the Morning Star Academy that serves as the setting for The Caster Chronicles, promising new conflicts between the magic-using students.
The New World Order Admissions booster packs each include eight random cards pulled from a collection of 84 different cards. Boosters will be sold in 20 pack display boxes, with each box featuring a "collaboration" promo card from Yamada-kun and the Seven Witches, Urara Shiraishi. In addition, each carton of six displays will include a limited edition playmat that will only be available with the first printing of the expansion.
The Magical Dream 7 starter deck features the Morning Star Academy's Pop Idol Club, and is intended as an easy way to start playing the game. The pre-constructed 50-card deck includes cards from all seven elements, and comes with a play sheet, rule sheet, and game manual. As an added incentive, decks from the first print run will also include a special promo card.
PREORDER CASTER CHRONICLES SD03 MAGICAL DREAM 7