WHAT WOULDN'T FRIENDS DO FOR $1 MILLION DOLLARS?
Find Out in Party Game Based on Rooster Teeth Comedy Series


Thursday May 10, 2018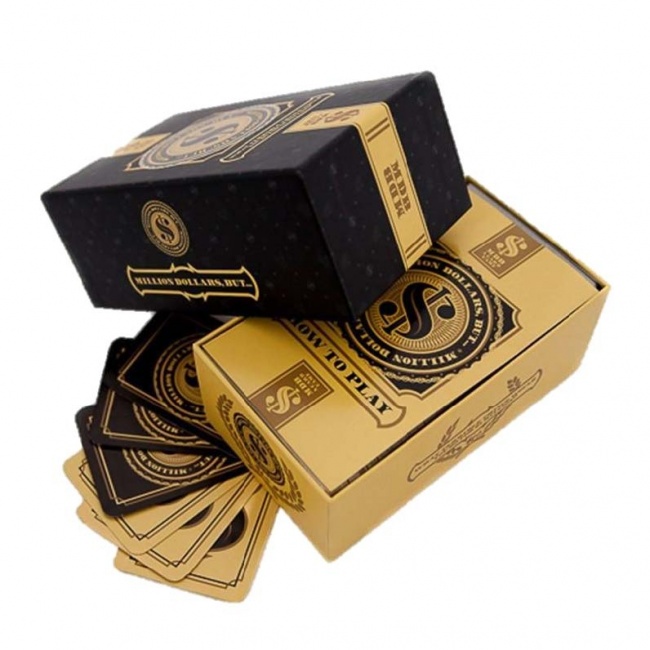 Cryptozoic Entertainment has partnered with media and entertainment company Rooster Teeth to bring the company's Million Dollars, But… The Card Game to hobby trade in July. Million Dollars, But… is based on Rooster Teeth's online series of the same name, where staff and special guests each come up with a difficult scenario which players must complete in order to receive a million dollars. Examples from the show include "spend the rest of your life as a centaur," "have a glowing fairy follow you everywhere," or "date Adolf Hitler for a year." Players then debate the pros and cons of the situation, and reenact their answers for the program with full studio production. The program is currently in its fifth season, with plans for new episodes in 2019.
In the game, players each take four cards: four black Trigger Cards, and four gold Rule Cards. A judge is chosen for the first round, and then other players submit a full scenario (1 Trigger, 1 Rule) facedown to the judge. The judge reads the submitted scenarios aloud, and the players debate the nuances of all the scenarios. Finally, the judge picks the scenario they would never do for a million dollars. That person wins the round, and becomes the judge for the next round. Each player then draws back up to 4 of each type of card, and a new round begins. The winner is the first player to win five rounds.
Rooster Teeth funded the game's production via a Kickstarter in 2016 which raised $1,353,024 from 30,546 backers ($44.29 / backer average). MSRP is $25.00. The company has been selling the game direct from its web store. Cryptozoic will release the base game in July and plans to release expansion packs in the near future.
PREORDER MILLION DOLLARS, BUT... THE GAME