'DUNGEONS & DRAGONS: ROCK PAPER WIZARD' ADDS 'FISTFUL OF MONSTERS'
Expansion for WizKids Game


Thursday June 21, 2018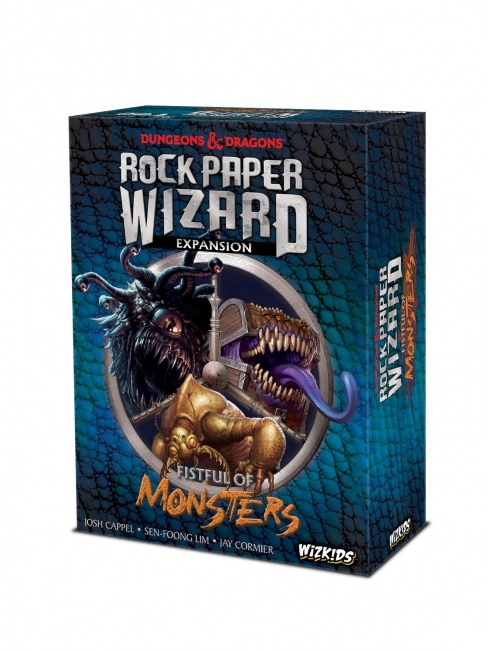 WizKids is unleashing a Fistful of Monsters into its licensed Dungeons & Dragons: Rock Paper Wizard card game. Release is planned for October.
Designers Jay Cormier, Josh Cappel, and Sen-Foong Lim have thrown Wandering Monsters into the mix of this battling wizards game (see "New 'D&D' Game from WizKids"). Mimics, Umber Hulks, and Beholders are now blundering around the game board, forcing the wizards to move around the board, lose gold, or take an Injury Token. Thankfully, a stack of new Magical Items (Ring of Spell Storing, Wand of Fireballs) are available near the cave entrance, which can be combined with spells to avoid the monster. The general goal of the game remains the same, collect 25 gold from the dragon's hoard to win.
The box includes 6 New Spell Cards. 21 1x Injury Tokens, 6 5x Injury Tokens, 12 Wandering Monster Cards, and 25 Magic Item Cards. As an expansion, it requires the base game to play. The game box for Fistful of Monsters is extra deep to include all the cards from the base game in one place.