Upper Deck's 2012-13 NHL Young Guns Rookie Cards Provide Shot of Life to Key Hockey Markets


Thursday November 01, 2012
By Chris Carlin

We are in the midst of a lockout and normally that would be a terrible situation for hockey fans, but there is a ray of light with Upper Deck's 2012-13 NHL Young Guns rookie cards releasing next week. Upper Deck makes a practice of holding over rookies from the previous class so the company can use those subjects for early season releases. And as luck would have it, this season many of these "hold-overs" are from great hockey markets so even though the NHL isn't playing right now, there should be quite a bit of demand for these cards.

Here's a look at some of the top players to grab from packs of 2012-13 NHL Upper Deck Series One when it releases on November 8, 2012: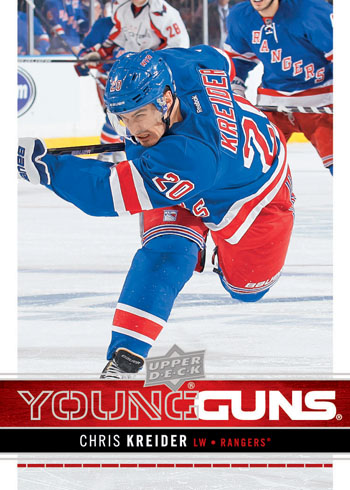 Chris Kreider – Card #237 (New York Rangers) – The former 19th overall pick by the Rangers in 2009 won a pair of NCAA championships in his three seasons at Boston College. He led the Eagles with 22 goals and 45 points as a junior in 2011-12.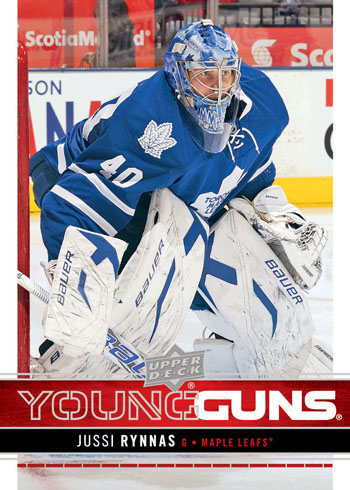 Jussi Rynnas – Card #249 (Toronto Maple Leafs) – Rynnas' primary asset is his 6-foot-5 frame, but he went undrafted while playing in his nativeFinland. He caught the attention of NHL teams during a solid season with Assat Pori in the SM-Liiga in 2009-10, and signed withToronto on April 23, 2010.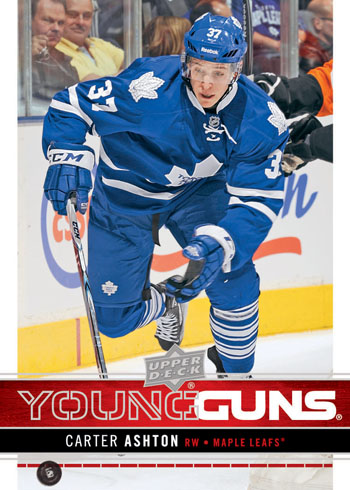 Carter Ashton – Card #247 (Toronto Maple Leafs) – Carter, who played his junior hockey with the WHL's Lethbridge Hurricanes and Regina Pats, is the son of former NHL winger Brent Ashton, who played 998 career games with nine different teams.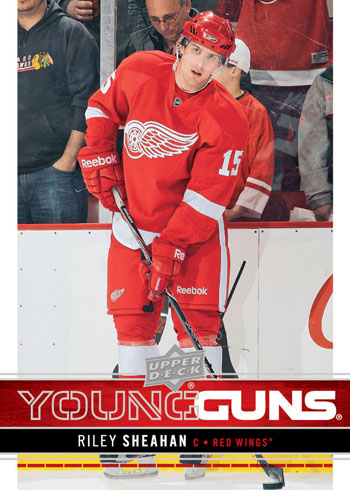 Riley Sheahan – Card #222 (Detroit Red Wings) – Sheahan wrapped up a three-year career at the University of Notre Dame with a nine-goal, 27-point performance in 37 games in 2011-12, and finished the campaign in the AHL with a goal and an assist in seven games with Grand Rapids.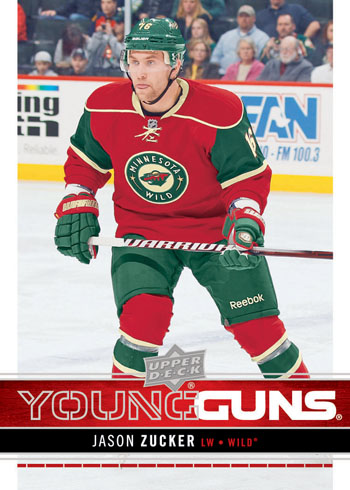 Jason Zucker – Card #227 (Minnesota Wild) – Zucker twice won gold medals with Team USA at the Under-18 World Championships, then was the youngest member of the American squad that beat Canada for gold medals at the 2010 World Junior Championships.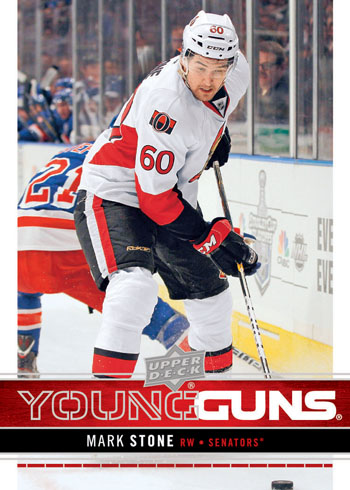 Mark Stone – Card #239 (Ottawa Senators) – Stone was second in the WHL with 123 points with the Brandon Wheat Kings in 2011-12. He played forCanada at the 2012 World Junior Championships, and had a hat trick in the tournament opener againstFinland on Dec. 26, 2011.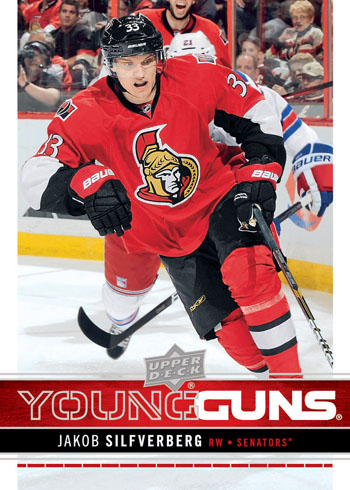 Jakob Silfverberg – Card #238 (Ottawa Senators) – Silfverberg won both the Guldhjalmen (Golden Helmet) as the Swedish Elite League's MVP and Guldpucken (Golden Puck) as the league's player of the year, playing for Byrnas in 2011-12 before joining the Senators in the playoffs.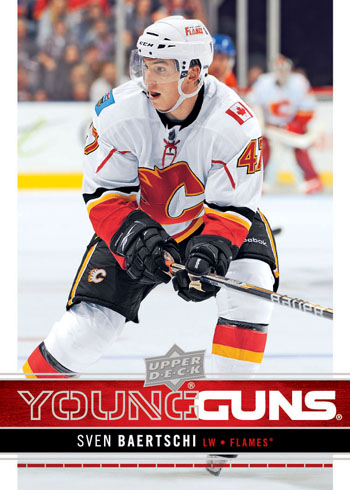 Sven Baertschi – Card #208 (Calgary Flames) – Baertschi played for SC Lagenthal in the National League B, a second-tier division in his nativeSwitzerland. He was 10th in the WHL with 94 points for the Portland Winterhawks in 2011-12.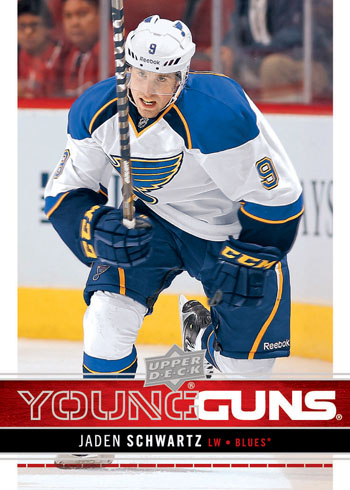 Jaden Schwartz – Card #245 (St. Louis Blues) – Schwartz was the only NCAA player on the Canadian team at the 2012 World Junior Championships, but served as team captain. He played two seasons atColoradoCollege, where older brother Rylan was a teammate.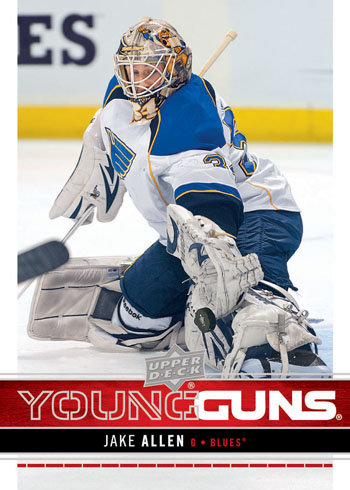 Jake Allen – Card #244 (St. Louis Blues) – Allen won the Jacques Plante Trophy as the top netminder in the QMJHL, and the CHL Goaltender of the Year playing for the Montreal Juniors and Drummondville Voltigeurs in 2009-10.
We think these Young Guns are going to have bright futures in the NHL. Why you ask? Because they have mental toughness.