'EPIC CARD GAME' TAKES ON THE GODS
In Two 'Pantheon' Expansions


Thursday January 04, 2018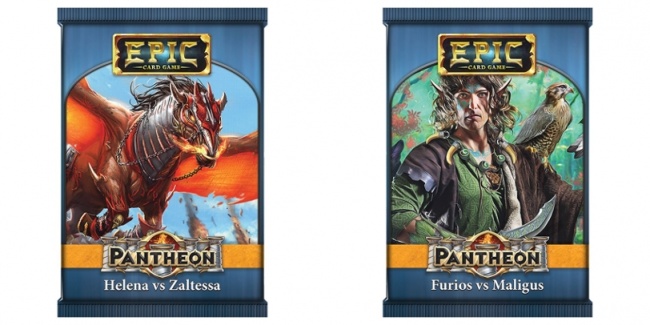 White Wizard Games will release two booster-pack-sized expansions for its Epic Card Game later this month: Pantheon: Helena vs Zaltessa and Pantheon: Furios vs Maligus.
Each of the small expansions add 15 new cards to the game. Helena vs Zaltessa pits the huntress goddess Zaltessa against the courageous Helena, who bravely hunts the goddess herself. In Furios vs Maligus, the nature deity Furios tries to protect the balance of nature from the hidden evil of Maligus, the Dark One.
The expansions are packed separately in 15-card booster packs. The boosters are not random, with each fixed expansion set having the same set of cards. Each expansion is offered in its own 12-pack display box.
PREORDER EPIC PANTHEON EXP FURIOS VS MALIGUS
PREORDER EPIC PANTHEON EXP HELENA VS ZALTESSA