'BATMAN: THE ANIMATED SERIES - GOTHAM UNDER SIEGE'
From IDW Games


Thursday May 10, 2018


IDW Games will release Batman: The Animated Series – Gotham Under Siege after Gen Con, with a preview at Origins Game Fair. IDW teased the game at the GAMA Trade Fair in March (see "High Profile Game Licenses Unveiled by IDW Games").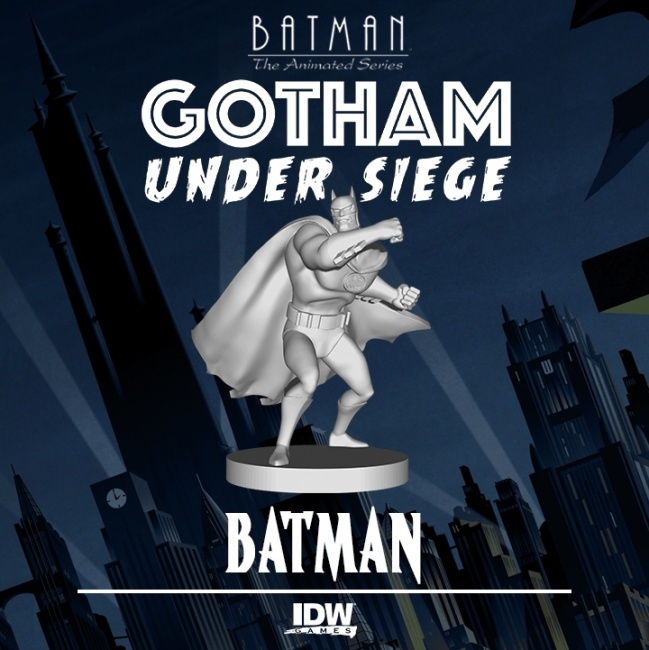 Designed by Richard Launius (Arkham Horror, Defenders of the Realm, Elder Sign) and Michael Guigliano, Gotham Under Siege casts players in the roles of Batman and his allies attempting to protect Gotham from various groups in the criminal underworld. Each round, players face a set of circumstances pulled from the first season of Batman: The Animated Series plots. Players will roll a pool of dice and complete actions. However, players must balance time spend working to solve the missions with resources spent ridding the city of crime. If too many civilians are hurt or buildings demolished, there will be nothing for the Caped Crusader to protect.
The box includes 48 story cards, 30 character power cards, 12 mastermind cards, 12 Gotham under siege boards, 5 character boards & cards, 5 miniatures, 9 building sheets, 60 thug tokens, 30 henchmen tokens, 15 ninja elite tokens, 10 ability tokens, 1 citizen token, 1 bat-signal token, 1 destruction token, 1 first-player token, 9 city-block tiles, 1 Gotham track board, 32 dice, a token bag, and a rule book. The game is for 1 – 5 players, ages 14 and up, and plays in 45 – 60 minutes.
PREORDER BATMAN ANIMATED SERIES GOTHAM UNDER SIEGE